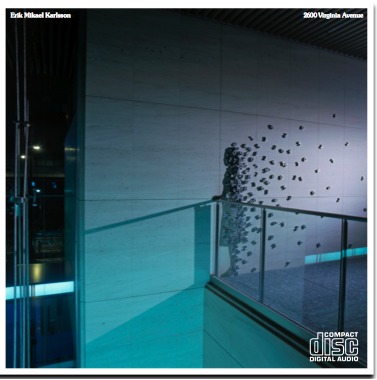 Erik Mikael Karlsson
2600 Virginia Avenue
Cataloguenumber:
escudre12
Year:
2011
Format:
CD, iTunes, Spotify, Google music, Wimp, Rdio, Amazon,
Tracklist
1: City View: As Simple As That 7:23

2: All The Nights At HoJos 5:23

3: 2600 Virginia Avenue 13:30

4: Suite 600 7:23

5: Hong Kong Confidential 6:31

6: The Friends Of Mr Ching Ling Foo 11:26

7: Oriental Doll House 7:49

8: City View: The Night Of The Seven Dragons 3:13

Add to cart
With a timeframe of production somewhere between Brian Wilsons legendary album SMiLE and Electric Café by Kraftwerk, Komplott presents 2600 Virginia Avenue, the new electronic album by the swedish composer Erik Mikael Karlsson.
"It took me ten years to create 2600 Virginia Avenue and something that could be called the first progressive-electronic album in a very long time" says Erik Mikael Karlsson "It has all the classical ingredients of its typology, the conceptual framing, the long epic tracks and a somewhat spaced-out attitude"
2600 Virginia Avenue starts off in the turmoil of the american seventies. The Watergate-affair is full blown and shortly after, a man involved in the break-in at the Democrats, escapes Washington DC in order to disappear in Hong Kong with a new identity as a magician. This is the odd and rather bizarre story that creates the backdrop for 2600 Virginia Avenue; but through this alter ego, Erik Mikael Karlsson creates a highly personal soundtrack. The melancholia is immanent in the view of the city.
The album is something completely off from the music usually associated with the composer Erik Mikael Karlsson, a nowadays classic, abstract and dramatic music strongly connected with the french musique concrète. The new album 2600 Virginia Avenue is fully another kind of music; an atmospheric, shimmering and multilayered music that in many ways pays hommage to artistic influences as Vangelis, Michel Legrand och Yellow Magic Orchestra.
2600 Virginia Avenue is completely created with a classical digital Synclavier 3200. The sound of the legendary synthesizer, aswell as use of the vocoder, supercharges the music with references, atmospheres and images intentionally used to create resonance through decades of electronic music and cinematic soundtracks. The music appears as a film whithout pictures, a soundtrack creating a world through our memories.
Erik Mikael Karlsson is a producer of a Swedish radio show Monitor for electroic music and of the european radioevent Art´s Birthday. He has a background as a composer and sound artist and has worked at many of the studios and institutions of contemporary music in Europe. Erik Mikael Karlsson lives and works in Malmö since ten years.
Recorded in Malmö, Bourges, Köln och Paris. Mastering: Rashad Becker, D & M Berlin. Cover: Kumi Yamashita
ORDER
Order cart empty
Thanks for orderering, order details has been posted by e-mail.
Registering order, one moment ...